interview: ra bear


︎Interview, Graphic Design, New Media
︎ Ventral Is Golden
Adam Griffiths
(
Ra Bear
) is a Designer, Art Director and Lecturer in Graphic Design at Manchester School of Art. Through a range of media, his practice occupies a cultural space between the physical and digital worlds, with a recent focus being '
image anarchism
' in relation to the found image.
In our interview, he talks us through life, death, technology, education and Anthony Burgess.
New media, a nostalgic loss of innocence, cult imagery and religion, technology and archiving, all seem to be important themes within your oeuvre. What is it about these subjects that particularly draws you to them?

I think growing up when technology was at it's tipping point and the internet was having its pilot successes have had a significant impact on my creative and cultural outlook. It's the Generation Y syndrome in which we saw the world in its last primitive moments. 
I believe we've reached a point in which the digital and the physical worlds have truly encapsulated each other, in the sense that we don't question the displacement of the digital symbology within our habitats anymore, nor do we find fault with the repurposing of existing language to be subverted for online means. 
I tend to see the relationships between life, death and religion mirrored within technology and the internet which also has an influence on my ideas.


"
I believe we've reached a point in which the digital and the physical worlds have truly encapsulated each other".

The web has become this all-encompassing space where we ask questions, grow communities and leave legacies. I find these phenomena evermore fascinating as we become increasingly web reliant. 
Archiving is something that I have invested interests in through my digital practice and the afore mentioned 'web reliance'. We've become a universe of image aggregators and anarchists through blogs and image heavy platforms and it's the displacement, fragmentation and subversion of these images that I've been recently exploring through various research projects. The 'DDDDoomed—Or, Collectors & Curators of the Image: A Brief Future History of the Image Aggregator' by R. Gerald Nelson really shone a light on all of this activity for me. It reads as a futuristic commentary, reflecting back on the state of image aggregation and online platforms of present, displaying the outcomes of our dysfunctional, neoliberal activity with the online image. I highly recommend.


You seem to work across many kinds of mediums, from custom type design, to moving image to print. How does this affect the content of your work from project to project?


I'm keen to keep moving within my work, a kind of nomadic designer of sorts. I'm pretty impatient like that and never enjoy spending a lot of time within one working space. When I started to work with music videos and co-direct with filmmakers, I found it really interesting to treat each medium in a similar fashion. That is to say, the way I'd treat a piece of typography or composing a poster, share lots of cross disciplinary skill sets. I find it hard to pin down exactly what it is that I do, but it generally revolves around the construction and deconstruction of the image, and how our relationship to the image changes in relation to new tehcnologies. 





Recently, I've started working with physical archives and curation. I'm currently working with Manchester's Pariah Press on a forthcoming Anthony Burgess book, the first new work to be posthumously published by the renowned author in twenty years. We're handling and curating Burgess' personal photographs, artefacts and objects within the archive as visual material for the book, meanwhile being overlooked by Burgess' spectral death mask alongside us. It's a totally new and touching experience for me working with somebody's personal relics in such close capacity like that, more so with such an historic and national figure as Burgess. There's an aura and visceral feeling that comes out of that kind of work that can't be matched digitally, and so the nomadic use of media is certainly something I'm wanting to maintain. 



︎Zaragoza, 2016
"
Teaching has been an evolutionary and fulfilling process. It's shifted me from being a hardwired designer to an open vein of shared experience".
Can you tell us a little more about some of the guiding influences on your personal and commercial projects?






A lot of my poster designs are obviously informed by the context organically, but I try to inject subtle fragments of both continuity and progression from project to project. There tends to be a linear, visual strand or signifier within the landscape of my work that shifts and alters, a cross pollination of sorts. This tends to be more transparent in the poster series for electronic label Nightcolours as each record sleeve adopts a very strict, cohesive design system in which only the information and colour way differs. I try to contrast these with accompanying posters that strip the formal design elements away and allow a much more fluid, often fluctuating, creative process, where the aesthetic and concept are still able to sit side by side with each other. My previous commissions for gig and club night posters through Manchester's most notable venues like Deaf Institute and Gorilla, were, for me, the perfect testing ground and platform for a designer to hone their craft, be public facing, and still explore the medium of the poster.

My influences change on the day to day, but some staple names on the proverbial dinner party list would certainly include the likes of Ikko Tanaka, Barney Bubbles, Hans-Peter Feldmann, Mitsuo Katsui, 8vo, Vaughan Oliver, Herbert Bayer and Rene Magritte. 


How has living, teaching and designing in Manchester, moulded your artistic perspective?


I moved to Manchester in 2009 to study Graphic Design at Manchester School of Art and back then I was amazed with just how accessible and utopian the city was in terms of its creative activity. It was (and relatively still is) so easy to set up an exhibition or run a print fair or put on a club night. The city really embraces you with open arms in that way. 
Manchester seems to be constantly in a state of flux; a form of structural purgatory or persistent transience. There's no doubt that seeing this process everyday has had somesort of influential impression on my visual syntax.
Teaching in Manchester has been an evolutionary and fulfilling process. It's shifted me from being a hardwired designer to an open vein of shared experience and knowledge, aided by some of the compelling work I see from our students, not just from Graphic Design, but from across the school, which undoubtedly keeps me in check.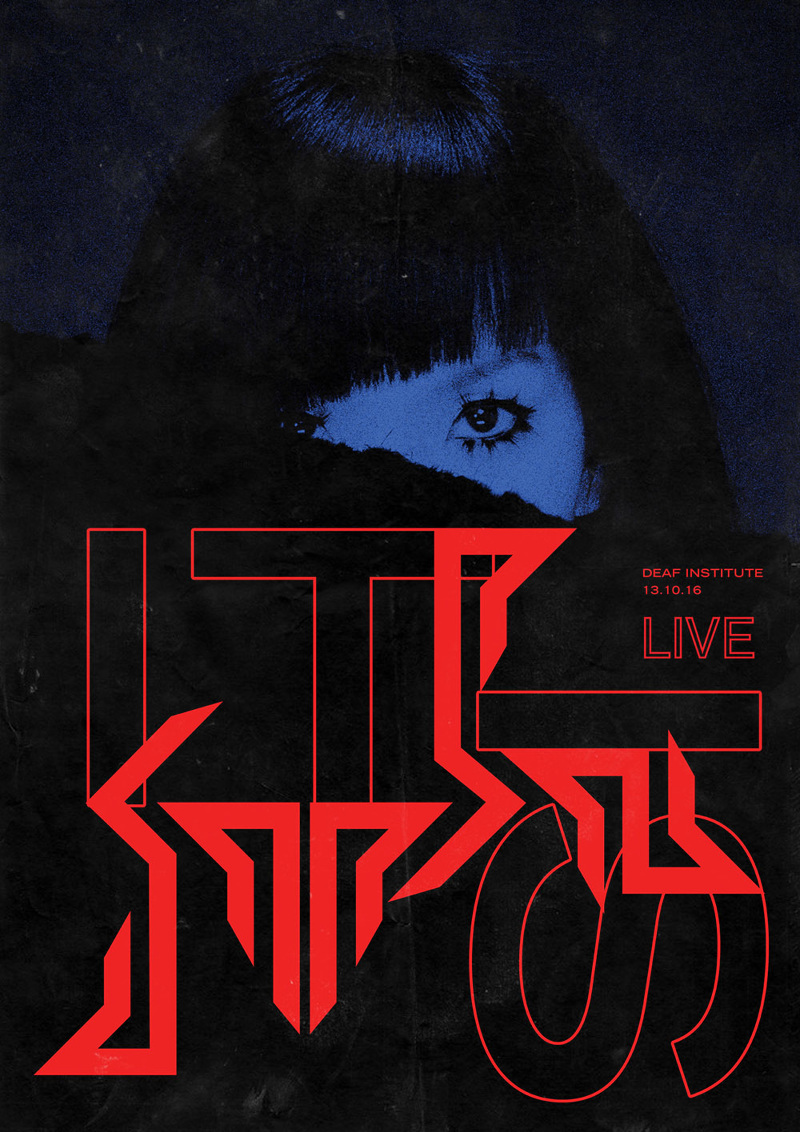 ︎Deaf Institute, poster, 2016
︎Eins Tiefer, poster, 2014
What is the meaning behind 'Ra Bear'?
Ra Bear is a name which my studio falls under. People have thought it was french, some pronounce it in alien ways, and some strangely think that it's my real name. In reality, it stems from this kind of bootleg
Thundercats action figure
I had as a child, bought from a back alley market. It was a hybrid between an egyptian pharaoh and a grizzly bear. The collision of these motifs and their serendipity stuck with me mentally and somehow finds its way into my work. Its a kind of totem.
Could you recommend some cultural fleshpots of Manchester where we are likely to find you or like minded creatives?

If it's creative fulfillment you are after then the likes of the Whitworth Gallery, HOME, Castlefield Gallery and the International Anthony Burgess Foundation would definitely keep you ticking over. They have an ever impressive range of exhibitions, events and archives. You could also hit up a night at any of our clubs and live venues (Albert Hall, Soup Kitchen, The White Hotel, the list goes on) and drink your beers at Sandbar.
Further Reading ︎