interview: kevin lucbert

︎Interview, Artist, Illustration
︎ Ventral Is Golden


Kevin Lucbert's ethereal drawings transform the banal and familiar into artefacts of transient daydreams.
We spoke to him about his influences and creative process.
When (if at all) did you start to refer to yourself as an illustrator?
I wouldn't precisely call myself an illustrator. However, as far as I can remember, I've always been drawing.
The process is more important than the word for me.

Do you have an audience in mind when you are illustrating, or is it to satisfy an internal need?
Its both. When I draw I always have the vague feeling I work for someone, somewhere... I also satisfy an internal need, an inner vision I want to express on the paper.

Do you think your surroundings, cultural, educational and geographical, have influenced the subject matter of your artwork?
I was born in Paris and I have lived in Berlin for four years now. Surroundings and backgrounds certainly have an influence on my work but not directly. The kind of suburban areas, highways or landscapes I draw aren't specifically from Paris or Berlin. I associate Paris with small and narrow streets, traffic jams and stress. When I arrived in Berlin five years ago I was quite impressed by the contrary. Some ideas also tend to come from my dreams, or visions I have.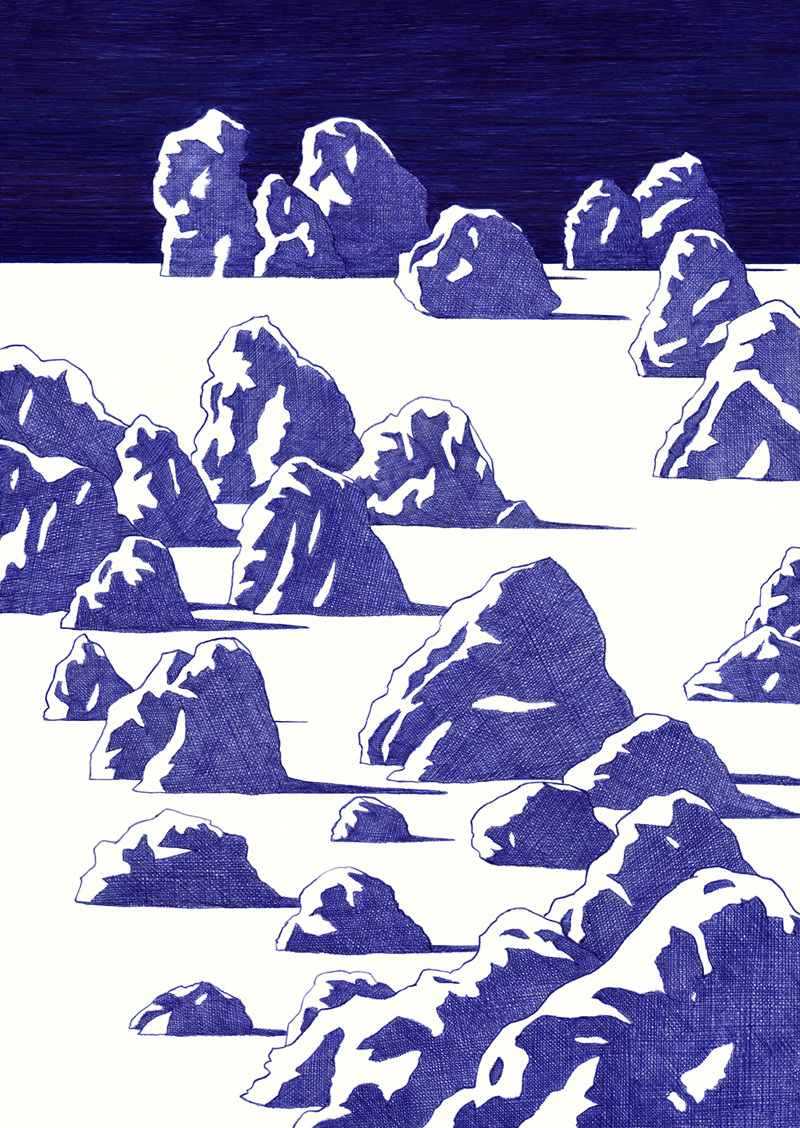 You mentioned that not all of your drawings are influenced by your physical surroundings, but instead come as dreams or visions. Could you expand on that feeling a little?
I rely first on my intuition. Ideas and visions come in many ways and I try to be receptive to all, whether its from a dream or a line in a book. Some are directly related to my state of mind. For instance, when I feel lost I tend to draw labyrinth patterns, and after the loss of a close friend, I did a piece called "Icarus", but I cannot explain all of the images. I often feel that I should draw something absurd nonetheless, a paradox. Some visions are very precise in my mind's eye, others are blurry and I don't know where the drawing is going. It reveals itself during the process.
All of my drawings, though independant at first sight, are connected by a strange narrative link, a kind of freudian "free association". This is why I like working in series, like the "Blue Lines" series for example.
A drawing series can be considered as an addition of fragments, put together, all these pieces create a singular world, a strange universe in which the viewer is invited. I like that an image includes many interpretations, like the way dreams operate. I wish they all have this dimension of mystery.
"A drawing series can be considered as an addition of fragments, put together, all these pieces create a singular world, a strange universe in which the viewer is invited. "
There is a rich culture of the graphic novel in France, perhaps popularised by people like Rene Laloux and Jean Giraud. Would you agree that France has more of an interest in the graphic novel than the UK for example? and if so, why?
I love both examples! "La planète sauvage" by René Laloux is one of my favorite animated films and Moebius aka Jean Giraud is a great reference for me. I think in the UK there is an huge interest in the graphic novel, popularised by publishers like "NOBROW" for instance. I'm also a big fan of Harold Foster, who could be considered one of the early inventors of the graphic novel genre with his "
Prince Valliant
" saga (1937).
France also certainly has a long and rich tradition towards comics. Nowadays we see more and more graphic novels being published. Even some newspapers are dedicated to comics reports like "
La Revue Dessinée
".
Do you have any particular artists, authors or film makers that inspire your art?
They are many artists and work I admire. We mentioned "la planète sauvage",
Rolad Topor
who collaborated on this film is also a great visual artist. I also get many ideas by reading books from writers with strong imagination like H.P. Lovecraft, Edgar Allan Poe or Philip K. Dick.
I love watching David Lynch's movies because he creates such beautiful and strange athmospheres, on the edge of dream and reality. I also like to look at the work of artists like M.C. Escher, Alfred Kubin, Caspar David Friedrich, Saul Steinberg, and David Hockney. I admire artists of children's books too, like
Tomi Ungerer
and also comic books artists like François Schuiten and Benoît Peeters. Their wonderful comic book "
La Tour
" was one of my biggest influences as a child.