interview: carlos rivero

︎Video, Photography, Graphic Design
︎ Ventral Is Golden



"Music, states of happiness, mythology, certain twilights and certain places try to tell us something, have said something we should not have missed, or are about to say something; this imminence of a revelation which does not occur is, perhaps, the aesthetic phenomenon."
- Jorge Luis Borges.
Carlos Rivero is a visual storyteller, art director, film maker and photographer, exploring the ethereal states of visual language as it seeps into dream sequences sculpted by his passion for people and nature.
︎Self Portrait, 2020.
What was the impulse that first led you into the realm of visual storytelling?

I think since a very young age I was watching to a lot of music videos and music documentaries and felt that there were direct stories told through the music and indirect stories hidden underneath the images. They had some subjective or cultural meanings attached to them. I realised that there were many ways to tell a story; about a person, a situation, a problem, a solution.
Every time I was listening to music, in my head I was feeling the ways in which I could visualise and retell the story. So I think this was the original impulse, to reveal this kind of visual aspect of the story that's sometimes hidden alongside the music.



Can you tell us a little about where you're from, and how your environment shaped your understanding of the world around you.

I'm from Valenca, Venezuela, a city very close to the Caribbean sea. I lived there until I was nineteen years old and then jumped to Atlanta in the US and lived there for one year before moving to Barcelona. Being born in Venezuela, with the tropical climate, being close to the sea, I think these gave me a sense of freedom, and from this early age I knew I always wanted to live close to the ocean. It's my element in a way. The horizon plays a big role in how I want to compose my works, and the idea of endless possibilities always gives me a sense of being able to grow through my work and evolve through different projects and mediums.
Living in Venezuela can be quite tough at times, there's lots of political and social problems, but now I've been in Europe for seven years already, and still shaping my understanding of the rest of the world. In the end every country has its own rhythm and sense of time in relation to its identity.
The natural world plays an influential part in your artistic process. Can you describe how a particular story or theme might form in your mind?
Yeah, obviously I think we have to live in total harmony with our environment, not only the human constructed environment, but more generally with the wider ecology. So this inspires me, and in my own way I'm trying to show this message to the public as a reminder, as a reflection, to hopefully create empathy. Right now the world needs our attention and art is a good method of activism to do this. Its for this that nature is so present in my works.


Aside to your many personal projects, you've also worked with a variety of clients that have taken you across the globe. Do you have a particular project that has been your favourite?
Probably my favourite project at the moment is the one I filmed in Bangladesh, in what's the largest refugee camp in the world actually. Its a documentary series that we're still preparing and editing, so I hope this year we can show something about this situation.

This project was a revealing experience for me. As I said before, the world needs our help and the humans who live on this planet also need our help, not only our empathy. We have to help each other.
Music is obviously another element that helps sculpt your story telling process. You've worked with the likes of Nicola Cruz and Fidel Eljuri, as well as Argentinian record label ZZK. for who you produced a mini documentary on the ethno-music research of UJI, entitled Ser-Tiempo.

Can you tell us a little about how this project materialised and the meaning of the title?
Yeah, I saw Uji for the first time playing a rave in Berlin. I didn't know anything about him but I was really impressed with his music. After the show I searched the internet for some of his projects and contacted him, we connected through our ideas and visions and then in 2018, ZZK Records made a showcase in Paris of their artists and I went there to film this project. In this moment we spoke more, I was very curious about his vision and his story. He told me about his time in the jungle of Colombia, filming with documentary film-maker Vincent Moon for around three months, making music with the indigenous communities. There was a lot of material to selected to tell the story of this film. After a lot of long nights selecting and directing I came to the idea of retelling a visual journey through sound.
It was something that Uji and I worked on together, with Uji creating the sound design for the film, and in this way it gave me a lot of freedom to play with the visuals.
The world Uji is a Japanese Buddhist concept meaning '
being-time
'. For Uji himself, he sees music as the art of time, it is a way to capture it. The name of the film, 'Ser-Tiempo' is the same concept translated into Spanish.
"The documentary traces Uji's in-depth research between 2009 and 2013 in different indigenous communities in Latin America. A kind of "artistic manifesto" directed by Carlos Rivero, which takes the viewer into the world of this artist who, on the one hand, investigates the altered states and ritualism of these indigenous dynasties and cultures; and on the other, in the complexities of electronic music." - Mixmag
Have there been many past photographers or film-makers that have inspired your work, either aesthetically or in the way you compose your stories?
Sure, some filmmakers that resonate with me are; Godfrey Reggio (Koyaanisqatsi, Powaqqatsi) and Ron Fricke (Samsara) for example. They made very immersive stories in the early nineties that gave me a different perspective of the world - without the use of speech, just image and sound to convey their message. Also Taylor Steele, who makes surf films about surf culture and Vincent Moon, to collaborate with him was very cool and inspiring for me.

Musicians; Tycho , Thom Yorke (my guru I think), Bonobo (all his audio/visual projects have always inspired me), Moby (his animal rights activism), Massive Attack - both these artists are involved in using their art for activism, very political and social, it feels complete as a method for me.
Also the artists of ZZK for example, this genre of Folklorica, the blend of traditional with electronic music is very visual inspiring.


Aside from music and nature, people are also at the heart of your work. Could you tell us more about your time documenting the refugees from Bangladesh and how important it is to narrate their stories?
Yeah, the Kutupalong Refugee Camp in Cox Bazars, Bangladesh. As I mentioned before, its the largest refugee camp in the world, with more than one million people right now.
This is the Rohingyas Community (below) that have been displaced from Myanmar. Its a really long and complex story, but its very important to highlight their stories because they're a kind of forgotten community. Simplifying a little bit their story, I can say that the government of Myanmar tried to erase their identity and it was important to document this and to question ourselves, our habits, our governments, our media in the process. To question them truthfully, in a very clear and direct way that gets to the heart of the story, because the heart is where the true empathy can be found in these situations. Like I said, its a huge, complex problem, but its important to show connections to nurture seeds of understanding to inspire correct action within our own lives.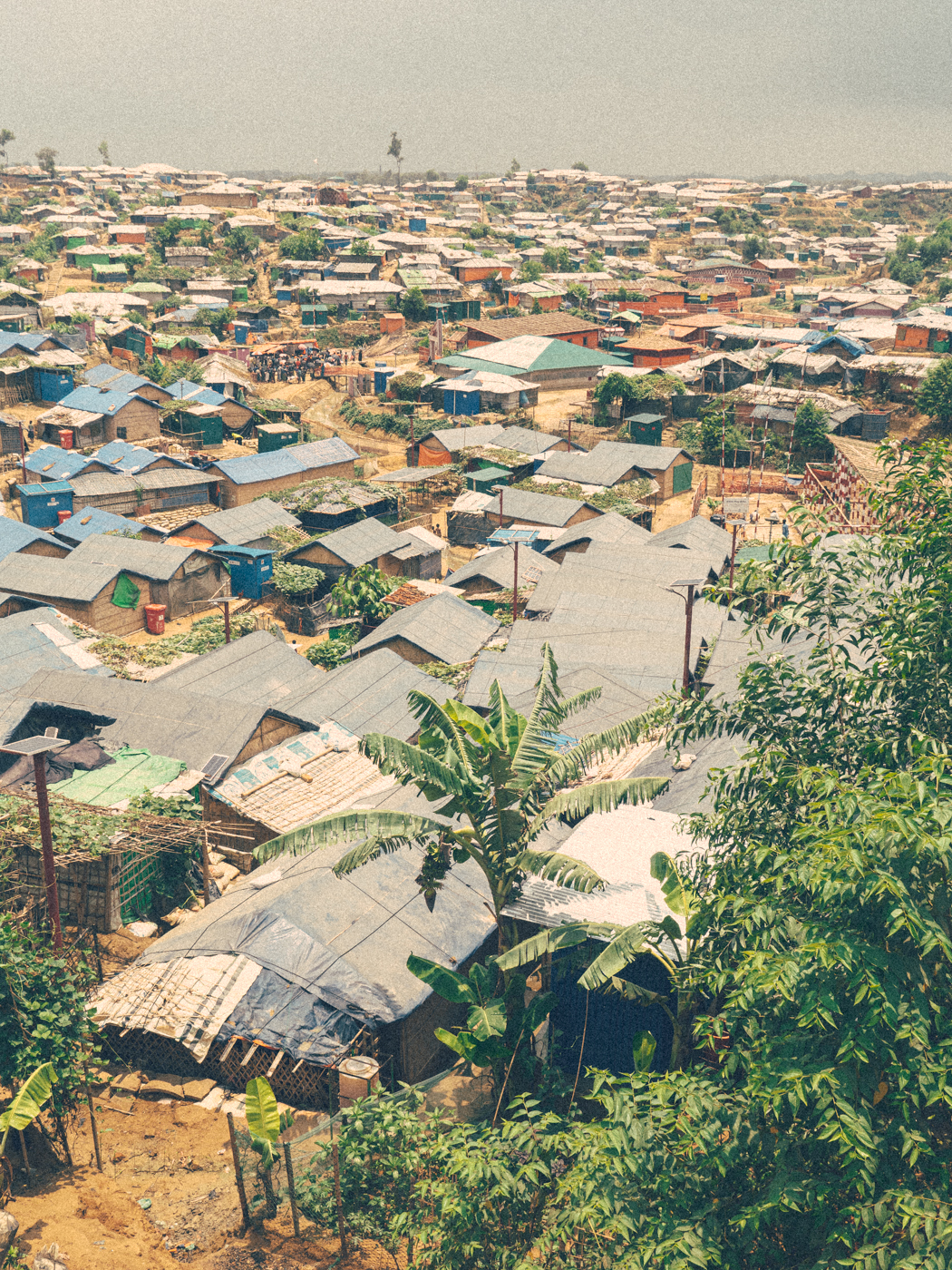 In a polarising project, you were also involved in the production and filming of VICE documentary 'Extinction Update', that gives an interspersed view of the ways in which unconscious human habits are destroying natural environments.

How do you approach the visualisation of these stories in contrast to your personal work?
In all my works, I try to give an artistic and emotional response, a kind of intimate touch. In this case with VICE, well they have a kind of definite format, more for a traditional television viewer, we could say, but I also like to work on these types of projects because, although it has limits at a creative level for me, I'm still helping to show a problem that affects the world on a larger scale. Definitely the information I learn on these projects inform my own personal projects, so they go hand in hand. Although stylistically they're different, they inform each other.

I think with this particular VICE project, the visual material was just a lot more raw and direct. It needed this kind of impact both for their format as well as the content. My own style is to tell a story in a slightly different way to what we're used to watching through the television.
Are you optimistic about the future? What quote or piece of advice that you've learned from your work could you share with us?
To tell you the truth, I try to be optimistic, but it can be hard when you see so many problems around you. The world is a little messed up right now, but optimism is the only way to situate yourself in a position to act, to help and to rise up to long term challenges.

We all have to help in some way, even if its on a small level, planting a seed, growing something or telling a story that will bare fruit for another generation. This is the long term benefit of activism and art and storytelling. Whatever your skill is, you should use it to cause some kind of positive social impact.


What can we expect to see from you in the future? I'm definitely focussing more in 'artivism' (where art meets activism). I have a lot of projects upcoming but I need to be patient before they're ready for their audiences.