interview: carlos rivero

︎Video, Story Telling, Photography, Graphic Design
︎ Ventral Is Golden



"Music, states of happiness, mythology, certain twilights and certain places try to tell us something, have said something we should not have missed, or are about to say something; this imminence of a revelation which does not occur is, perhaps, the aesthetic phenomenon."
- Jorge Luis Borges.
Carlos Rivero is a visual storyteller, art director, film maker and photographer, exploring the ethereal states of visual language as it seeps into dream sequences sculpted by his passion for people and nature.
︎Self Portrait, 2020.
What was the impulse that first led you into the realm of visual storytelling?

I think since a very young age I was watching to a lot of music videos and music documentaries and felt that there were direct stories told through the music and indirect stories hidden underneath the images. They had some subjective or cultural meanings attached to them. I realised that there were many ways to tell a story; about a person, a situation, a problem, a solution.
Every time I was listening to music, in my head I was feeling the ways in which I could visualise and retell the story. So I think this was the original impulse, to reveal this kind of visual aspect of the story that's sometimes hidden alongside the music.



Can you tell us a little about where you're from, and how your environment shaped your understanding of the world around you.

I'm from Valenca, Venezuela, a city very close to the Caribbean sea. I lived there until I was nineteen years old and then jumped to Atlanta in the US and lived there for one year before moving to Barcelona. Being born in Venezuela, with the tropical climate, being close to the sea, I think these gave me a sense of freedom, and from this early age I knew I always wanted to live close to the ocean. It's my element in a way. The horizon plays a big role in how I want to compose my works, and the idea of endless possibilities always gives me a sense of being able to grow through my work and evolve through different projects and mediums.
Living in Venezuela can be quite tough at times, there's lots of political and social problems, but now I've been in Europe for seven years already, and still shaping my understanding of the rest of the world. In the end every country has its own rhythm and sense of time in relation to its identity.
The natural world plays an influential part in your artistic process. Can you describe how a particular story or theme might form in your mind?
Yeah, obviously I think we have to live in total harmony with our environment, not only the human constructed environment, but more generally with the wider ecology. So this inspires me, and in my own way I'm trying to show this message to the public as a reminder, as a reflection, to hopefully create empathy. Right now the world needs our attention and art is a good method of activism to do this. Its for this that nature is so present in my works.


Aside to your many personal projects, you've also worked with a variety of clients that have taken you across the globe. Do you have a particular project that has been your favourite?
Probably my favourite project at the moment is the one I filmed in Bangladesh, in what's the largest refugee camp in the world actually. Its a documentary series that we're still preparing and editing, so I hope this year we can show something about this situation.

This project was a revealing experience for me. As I said before, the world needs our help and the humans who live on this planet also need our help, not only our empathy. We have to help each other.
Music is obviously another element that helps sculpt your story telling process. You've worked with the likes of Nicola Cruz and Fidel Eljuri, as well as Argentinian record label ZZK. for who you produced a mini documentary on the ethno-music research of UJI, entitled Ser-Tiempo.

Can you tell us a little about how this project materialised and the meaning of the title?
Yeah, I saw Uji for the first time playing a rave in Berlin. I didn't know anything about him but I was really impressed with his music. After the show I searched the internet for some of his projects and contacted him, we connected through our ideas and visions and then in 2018, ZZK Records made a showcase in Paris of their artists and I went there to film this project. In this moment we spoke more, I was very curious about his vision and his story. He told me about his time in the jungle of Colombia, filming with documentary film-maker Vincent Moon for around three months, making music with the indigenous communities. There was a lot of material to selected to tell the story of this film. After a lot of long nights selecting and directing I came to the idea of retelling a visual journey through sound.
It was something that Uji and I worked on together, with Uji creating the sound design for the film, and in this way it gave me a lot of freedom to play with the visuals.
The world Uji is a Japanese Buddhist concept meaning '
being-time
'. For Uji himself, he sees music as the art of time, it is a way to capture it. The name of the film, 'Ser-Tiempo' is the same concept translated into Spanish.
"The documentary traces Uji's in-depth research between 2009 and 2013 in different indigenous communities in Latin America. A kind of "artistic manifesto" directed by Carlos Rivero, which takes the viewer into the world of this artist who, on the one hand, investigates the altered states and ritualism of these indigenous dynasties and cultures; and on the other, in the complexities of electronic music." - Mixmag
Have there been many past photographers or film-makers that have inspired your work, either aesthetically or in the way you compose your stories?
Sure, some filmmakers that resonate with me are; Godfrey Reggio (Koyaanisqatsi, Powaqqatsi) and Ron Fricke (Samsara) for example. They made very immersive stories in the early nineties that gave me a different perspective of the world - without the use of speech, just image and sound to convey their message. Also Taylor Steele, who makes surf films about surf culture and Vincent Moon, to collaborate with him was very cool and inspiring for me.

Musicians; Tycho , Thom Yorke (my guru I think), Bonobo (all his audio/visual projects have always inspired me), Moby (his animal rights activism), Massive Attack - both these artists are involved in using their art for activism, very political and social, it feels complete as a method for me.
Also the artists of ZZK for example, this genre of Folklorica, the blend of traditional with electronic music is very visual inspiring.


Aside from music and nature, people are also at the heart of your work. Could you tell us more about your time documenting the refugees from Bangladesh and how important it is to narrate their stories?
Yeah, the Kutupalong Refugee Camp in Cox Bazars, Bangladesh. As I mentioned before, its the largest refugee camp in the world, with more than one million people right now.
This is the Rohingyas Community (below) that have been displaced from Myanmar. Its a really long and complex story, but its very important to highlight their stories because they're a kind of forgotten community. Simplifying a little bit their story, I can say that the government of Myanmar tried to erase their identity and it was important to document this and to question ourselves, our habits, our governments, our media in the process. To question them truthfully, in a very clear and direct way that gets to the heart of the story, because the heart is where the true empathy can be found in these situations. Like I said, its a huge, complex problem, but its important to show connections to nurture seeds of understanding to inspire correct action within our own lives.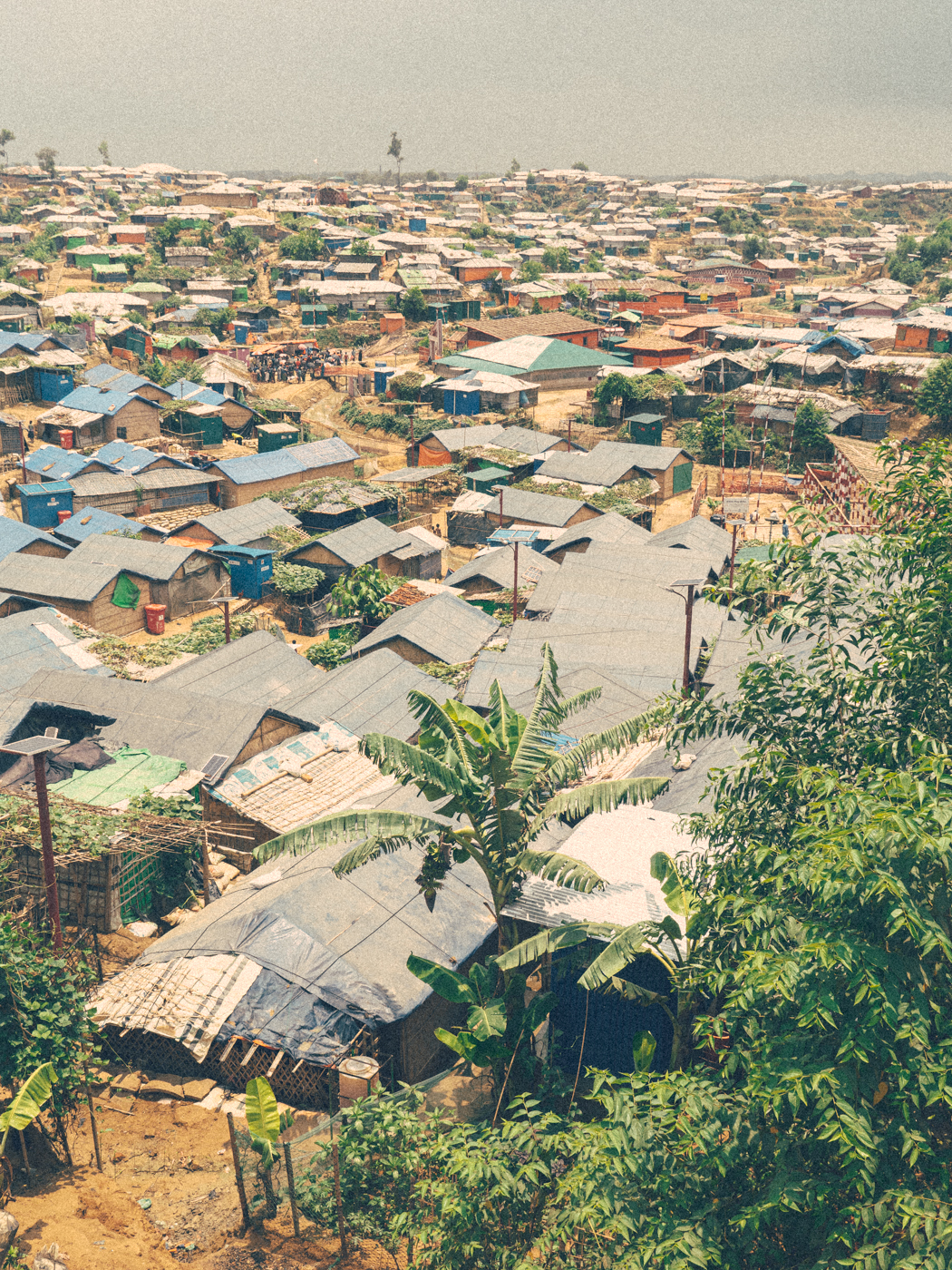 In a polarising project, you were also involved in the production and filming of VICE documentary 'Extinction Update', that gives an interspersed view of the ways in which unconscious human habits are destroying natural environments.

How do you approach the visualisation of these stories in contrast to your personal work?
In all my works, I try to give an artistic and emotional response, a kind of intimate touch. In this case with VICE, well they have a kind of definite format, more for a traditional television viewer, we could say, but I also like to work on these types of projects because, although it has limits at a creative level for me, I'm still helping to show a problem that affects the world on a larger scale. Definitely the information I learn on these projects inform my own personal projects, so they go hand in hand. Although stylistically they're different, they inform each other.

I think with this particular VICE project, the visual material was just a lot more raw and direct. It needed this kind of impact both for their format as well as the content. My own style is to tell a story in a slightly different way to what we're used to watching through the television.
Are you optimistic about the future? What quote or piece of advice that you've learned from your work could you share with us?
To tell you the truth, I try to be optimistic, but it can be hard when you see so many problems around you. The world is a little messed up right now, but optimism is the only way to situate yourself in a position to act, to help and to rise up to long term challenges.

We all have to help in some way, even if its on a small level, planting a seed, growing something or telling a story that will bare fruit for another generation. This is the long term benefit of activism and art and storytelling. Whatever your skill is, you should use it to cause some kind of positive social impact.


What can we expect to see from you in the future? I'm definitely focussing more in 'artivism' (where art meets activism). I have a lot of projects upcoming but I need to be patient before they're ready for their audiences.


ep: simili gum - pacifyer


︎Music, Album, E-Pop, Electronic
︎ Melt
The first time we heard the new Simili Gum EP Pacifyer we were taken back by how similtaniously it feels soothing but chaotic. Like stepping into a very insular and fluid world full of poetic lanscapes.

A beautiful and hantingly personal debut EP, Pacifyer draws you in with its otherworldly sounds.



Further Listening ︎
https://whitegardenn.bandcamp.com

︎[Art: Camille Soulat]
The first time we heard the new Simili Gum EP Pacifyer we were taken back by how similtaniously it felt soothing but chaotic. Like stepping into a very insular and fluid world full of poetic lanscapes.

After several years producing music in its most varied aspects, Simili Gum will deliver his first project realized and executed as a work in its own right. As a result of a long journey between experimental electronic music, rap and french variety, Pacifyer concentrated his influences into 7 personal and intimate tracks.

His writing, made up of an intermingling of poetic narratives and surrealist lyrics, draws on the contours of an atypical and marginal character, navigating in this rational world. His alien sounds, organic and electronic, are confronted with deeply human discourse and feelings.



Tracklist
d'un coup 26

Mur

Voix off

Cupola

Un peu de gris

Rendezvous pitch maneuver

Stardust
There seems to be a very open and fluid scene that has developed in France in both music and art. Which feels uniquely French but also reflects changes on a global level. How do you see modern culture in France and how does your music sit within this sphere?

I don't think that I have much perspective on the French scene. I am interested into artists from a lot of different countries.However, the way I experience what we can call a « French scene » is through my personal network. A lot of my friends are really talented artists and this is very stimulating !The scene becomes more and more open-minded and I can feel that forms are enriching each others.What is very exciting with modern culture is that there is so much possibilities that everyone can feel represented.I love when artists create their own sub-genre, I try my best to do mine.


The artwork for the EP was done by artist Camille Soulat, can you tell us a bit about working with her and how the artwork connects the music and the Simili Gum world?

Camille and me have been very close for years now and she's probably the person who understand me the most.It's always very easy to work with her because I don't have any instructions to give to her.I have entire confidence in her vision as I know she totally gets my point.We worked together since the very beginning and so we can totally say that she is at the origin of my visual universe.Even when I collab with someone else -I recently called on the very talented video artist Lilian Hardouineau to work on my latest music video for example-,I'm showing her every steps, she gives advices and even help concretely !She is deeply involved in my project, and I really hope we will even go further in collaboration.


Can you tell us about the name Simili Gum and what it embodies, and also the EP title Pacifyer?

When I choose Simili Gum as a name I wanted to embody something like an idea, an imaginary substance, a new material.I'm very interested by notions like elasticity, flexibility, softness or distortion. I want them to be noticeable in each aspects of my work — from music to visuals passing by name and titles.Title of the EP 'Pacifyer' was given me by Camille. One day she literally texted me « Pacifyer : title of your project » after she listened to it for the first time. I immediately felt consonant with this title because one of my main aim is to bring a form of appeasement to people that feel weird or even rejected. I always struggle with titles and so I really appreciate when they are not only « mine ».
Can you tell us a bit about the evolution of Simili Gum and the process creating your new EP Pacifyer?

Well, for me it has been a pretty long process as I had multiple types of music projects since I'm 14 y.o.I started making music by rapping, I created multiple groups with my best friend for years,but then one day I felt like the music I was making no longer had much to do with my personal aspirations.I wanted to discover and understand myself I guess, so I experienced different sort of mediums (drawing, video, etc.) which led me to the fine arts academy.I was in my 3rd grade when I started producing. It was a really recreational practice for me.I did some sort of lo-fi ambient, later it gets more and more shapeless and experimental.But still, I was unsatisfied by the result as if something was missing. I felt the need to write and express myself in a more personnal way.When i started recording my voice over my productions (2 years ago) it made much more sense for me.Like if it was the ideal format to completely express myself while mixing my diverse influences.Since then I've been quite active on Soundcloud and Youtube, this allowed me to travel and perform in some venues.During last autumn, I decided to put all my energy into making this new EP 'Pacifyer' that I thought of as a real introduction to my universe.Process is still the same basically : I was in my room, I spent winter working on these songs in a very introspective mood.

"When I make music it's one of the only moments where I completely let go."




The first time i heard the tracks i was taken back by how different and unusual they feel.At the same time feeling soothing but chaotic. They appear quite personal, like i was stepping into a very insular world...How would you describe the style of music you make and how does it reflect yourself and the way the world feels at the moment?



When I make music it's one of the only moments where I completely let go. While singing or producing I feel like I'm alone, even if someone is nearby - I let myself be taken by emotions of all kind. This is a place of deep intimacy while paradoxically a lot of my ideas comes from outside.My writing is usually a combination of notes I take when I walk around.I love to hang out alone searching for situations that appeals to me in anyway. Originally I am quite lost in thought, always wondering where is my place in this world. Writing, producing and singing was first of all a huge necessity for me. The right answer to those questions I was constantly asking myself and the form that it takes obviously reflects my vision of the world.






Can you tell us a bit about where you grew up and where you live now, and if this had any influence on your music?



I grew up in Lyon, I'm not sure in which way it influenced me, but I would not be the same person if I wasn't born there, so…Anyway there's a huge and very interesting variety of scenes in Lyon, I experienced some of it. I met a lot of very good friends there.But strangely I started assuming to do it my own way when I stopped trying to be part of a scene.It coincided with the exact moment I left Lyon for Marseille where I've been living for almost two years now.It has been very beneficial for both mind and creativity to leave my hometown.Marseille is always moving and inspiring, people here are a lot more expressive than anywhere else in France !But I can't sit still and I'm so excited to move in near Paris with my very good friend and collaborator dYmanche in the next few months.



interview: kinship

︎Music, Label, Interview, Graphic Design
︎ Ventral Is Golden



A manifesto of digital aftermath,
exploring the mysterious series
of relation and encounter.

Exploring liminal states in search of the transcendental with Berlin based cassette label, Kinship.
︎Kinship, 2020.
When and what was the original impulse behind the formation of Kinship as a label?
For me the original impulse was to create Kinship as a way to recall the temporary connections made between people and their instruments, within a kind of temporary, disappearing timeframe. Personally I think the tape expresses limitations that speak to this point of reference that stretches through time. It's maybe what the digital realm of music loses, this aspect of a physical form, a totem that's embedded somehow in the past. Either way it's an emotional resonance. Music in all its forms needs to be heard.


It seems like cassette is your preferred medium. Is it the sound quality or aesthetic that draws you to this format most?
Cassette is my preferred medium for many reasons. Besides its quick production, the sound of the tape has a certain compression and sound quality that fits the music very well, from the selection of sounds to the way the narrative in the music itself follows. Through the quality of how the audio signal is given through the tape, the perception of the quality of the music changes. The tape becomes a part of the music and I love that aspect about a cassette.
The cassette encourages to listen to the whole album instead of individual tracks and often keeps you away from skipping, which naturally enables you to reach a more meditative state whilst listening. This could be seen to benefit our attention span in some ways.

No-one is forced to listen to the cassette though. In every tape release there's also a download code included so you can get the music digitally. Its just a choice in the end, only a "preferred medium". To understand further why cassette is the format I'm in love with, the social & philosophical aspects of it etc; you can read Rasmus Fleischer's article, "How Music Takes Place: Excerpts From "The Post-digital Manifesto" (The Internet Does Not Exist).

"If viewed from a distance, all unique combinations of instrument and sound effects start to resemble something more like meta-instruments. The same thing happens if we consider hardware and software, and the different ways in which they can be configured to produce sounds. The development of the musical means of production finds its expression in innovations made at this meta-instrumental level, and these show themselves for the most part to be the results of collective experimentation without any identifiable single author."
︎Air Cushion Finish, 2018.
What goes into a typical Kinship release in terms of genre. How do you discriminate between tastes and moods in order to know what to release?
It's really impossible for me to break it down into a certain genre. There is no typical Kinship release and I think every release is as important as the other.
I do gravitate towards music which resonates with a certain period of time though - the journey, a stretch of time. So any one release can be complimentary to the next or previous in the series, as a kind of non-linear narrative. As I try to stay true to this feeling, the more fulfilled the sound appears to me, and hopfully to others.


You've worked on cassettes with fellow Berliners, Air Cushion Finish, on their 'Chinese New Year' (2018) release. Their sound has been described as anything from 'homeopathic punk' to 'unforeseeable slow motion cacophony'. How has your time in the Berlin's fertile underground music scene influenced Kinship's own experimental output.
It was a nice time. :) I used to manage bookings for Acud Macht Neu where I had the chance to meet lots of musicians. Apart from that I just went randomly to nice gigs in occasionally off-centre places and festivals, also playing in these experimental constellations myself. The first time I saw Air Cushion Finish, it resonated with me in a way that my perception towards performance and music in general had changed. The way they expressed, the balance between approachability and the territory of the unknown was something I never experienced before… Since then we became very good friends and make music together whenever we feel it.

You have released 'Uzun Havalar' (2019) by Gözen Atila's psychedelic synth folk project Anadol. This project walks in the footsteps of lone synth experimentalists like Bruce Haack and Space Lady. How did this project materialise?
Gözen (Anadol) gave me the demo of "Uzun Havalar" around 2016 and asked me if I could find a label which could fit to release this album. At that time I was only having ideas of starting a label myself. After I listened to the demo, this album became one of the main reasons I started the label.
Quite quickly, it magically reached an audience who could really appreciate and feel what the music spoke of.
Probably your biggest collaborative project though the Kinship label was 'Who Corrupted Our Wave, Back in 1969?' (2018) by Spiritczulaic Enhancement Center (S.E.C), in which you play bass in an almost exclusively improvised, spectral jazz infused ensemble of international musicians. How do you find the experience of playing in such a diverse project. Is this a departure from your work through Kinship or some kind of reflective process?
Thats a good way to put it - S.E.C is a group of individuals who have found a certain purpose in doing what needs to be done in terms of improvising sounds in various dimensions. It musically clicked from the moment we first played. The release was our first concert together and the recording was definitely worth the journey. Making music can be a reflective process and one of the intentions behind making Kinship was definitely to create a kind of archive to revisit these experiences.


S.E.C also played a sold out show to finish their first major European tour at Arkaoda alongside Damo Suzuki. Are there any plans to release this in the future?
We enjoyed going to Arkaoda in Istanbul and playing there. It's one of the few places which became a meeting spot for the turkish experimental music scene in the asian side of Istanbul. Since then, they opened in Berlin and we've been in close contact with them. This show was an incredible experience! It was the last concert of our tour in February 2020 (ten days before the first lockdown). It was very rewarding in many ways. The place was packed and the recording was made. We will hopfully be releasing this on vinyl in the near future through parisian label, Akuphone.

︎Who Corrupted Our Wave?, 2018.
"In the post-digital, almost any barrier to the boundless flood of music can be turned into a resource for the production of presence..." -
Rasmus Fleischer.
album: oto no wa –
selected sounds of japan 1988-2018


︎Music, Album, Ambient, Electronic
︎ Melt
The fifth entry in label Music For Dreams Collector's Series they enlist the skills of Japan-based musical connoisseurs. Their compilation Oto No Wa sets out to map the evolution of chilled Japanese sounds across 3 decades.

Collecting 14 tracks, produced by a wide range of artists. From ambient pioneers to dance-floor veterans.




Further Listening ︎
musicfordreams.bandcamp.com
︎ [

Music For Dreams

]
"The 90s give us the seminal electronics of Susumu Yokota, and the solar-flare strut of Scha Dara Parr - Japan's answer to The Beastie Boys. Here, remixed by the legendary Major Force. Moving into the 21st century we have the post-house productions of Flower Records. Kentaro Takizawa's oceanic Gradual Life, and Little Big Bee's colourful coral reef-diving Scuba.

Fellow traveller, Kaoru Inoue's "Kyushu kosmische". Representing the next decade are Flower Records' current rising stars, Coastlines, who calmly combine classic fusion, library music, and gentle nova bossa nova rhythms. Alongside them are the sun-baked electro-acoustics of Karel Arbus & Eiji Takamatsu, plus Chillax' previously unreleased epic analog / modular jam.

Tracklist
A
1. Yoshio Ojima – Sealed
2. Olololop – Mon (orte Remix)
3. Kazuya Kotani – Fatima
B
1. Schadaraparr – N.I.C.E. Guy (Nice Guitar Dub)
2. Little Tempo – Frostie
3. Karel Arbus & Eiji Takamatsu – Coco & The Fish
4. Kentaro Takizawa – Gradual Life (Album Version)
C
1. Yoshiaki Ochi – Balasong
2. Kaoru Inoue – Wave Introduction
3. Little Big Bee – Scuba (Original Version)
4. Coastlines – East Dry River
D
1. Susumu Yokota – Uchu Tanjyo
2. Chillax – Time And Space
3. Takashi Kokubo – Quiet Inlet
All of these selections are the result of some serious digging but more importantly they represent physical connections made during Ken's 20-plus-year career in the Biz and Max' decade of DJing all over Japan. Music made by folks interviewed by Rob at the websites, Test Pressing and Ban Ban Ton Ton. Friendships forged at Lone Star - the trio's long-running party, which takes place every month at Bar Bonobo in Harajuku."


"From ambient pioneers to dance-floor veterans."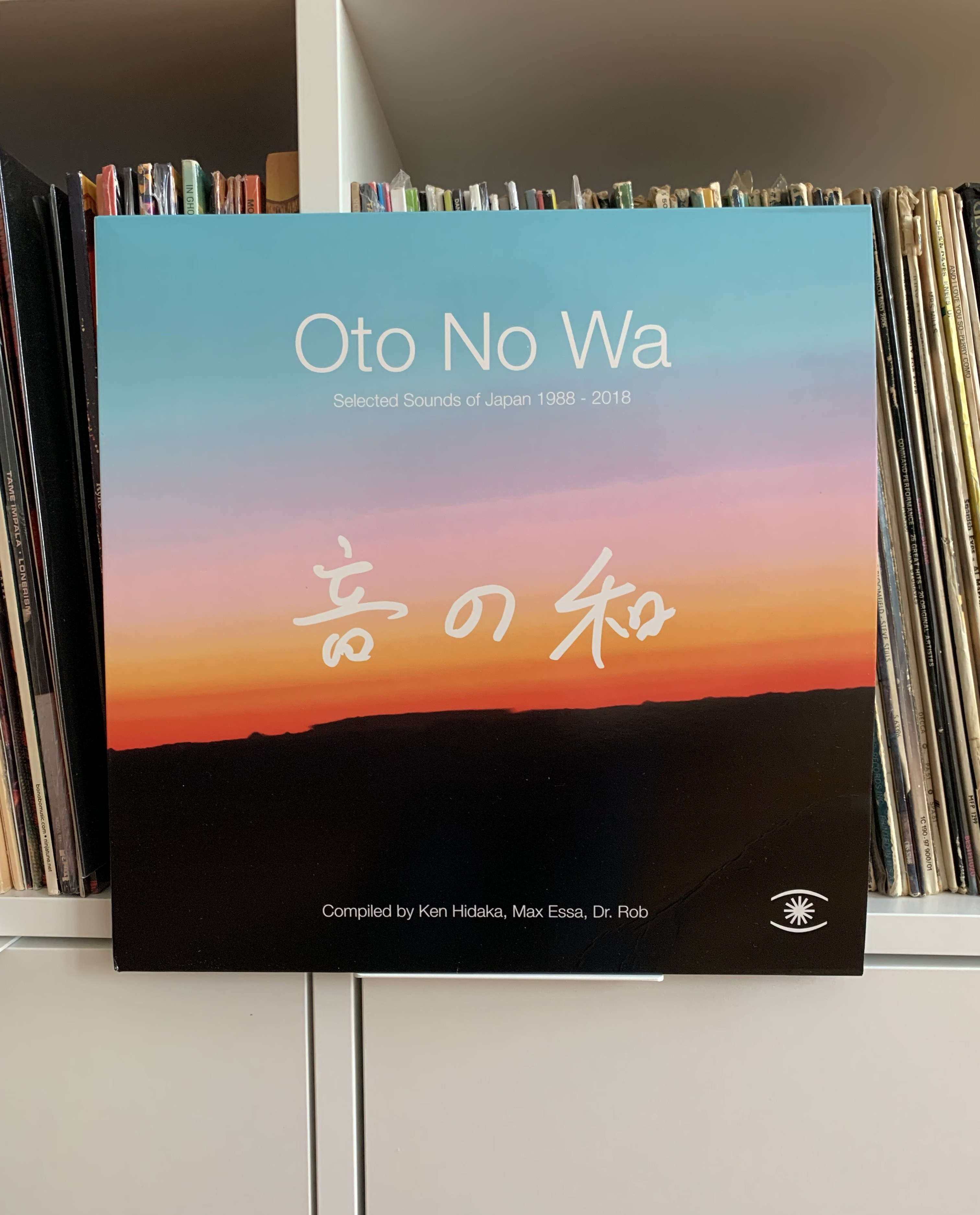 album: three body


︎Music, Album, Beats, Electronic
︎ Melt
This eponymous release from Three Body fuses digital futurism with cosmic organica. Hedonistic breakbeats, woodwind and keys interpolate six melodious tracks, stemming from live recordings, revolving around percussive conversations. With the band's raw minimal approach and combination of natural and synthetic instrumentation, this elemental EP offers an innovative study of contemporary electronic music and its relationship with ethnic rhythms and tones.




Further Listening ︎
https://threebody.bandcamp.com/album/three-body-3
Tracklist
1. Palm Leaf
2. Messenger
3. Orbited Theory
4. Jampa Gawa
5. Samarkand Bazaar
6. Foyer
Three Body are a contemporary electronic and ethnic fusion ensemble from Nottingham, England. Formed in 2014, the trio began jamming live and recording in an open format, self-releasing 2 EPs with an improvisational take on beat music. The band later featured on Brownswood's first Future Bubblers compilation; track 'Nomad' signalled the band's obsessio with ancient timbres and earthly grooves. A series of live shows, recordings and releases pursued, alongside works with new age mystics Spirit Wrestlers [founded by Woosh of DIY].


"Hedonistic breakbeats, woodwind and keys interpolate six melodious tracks"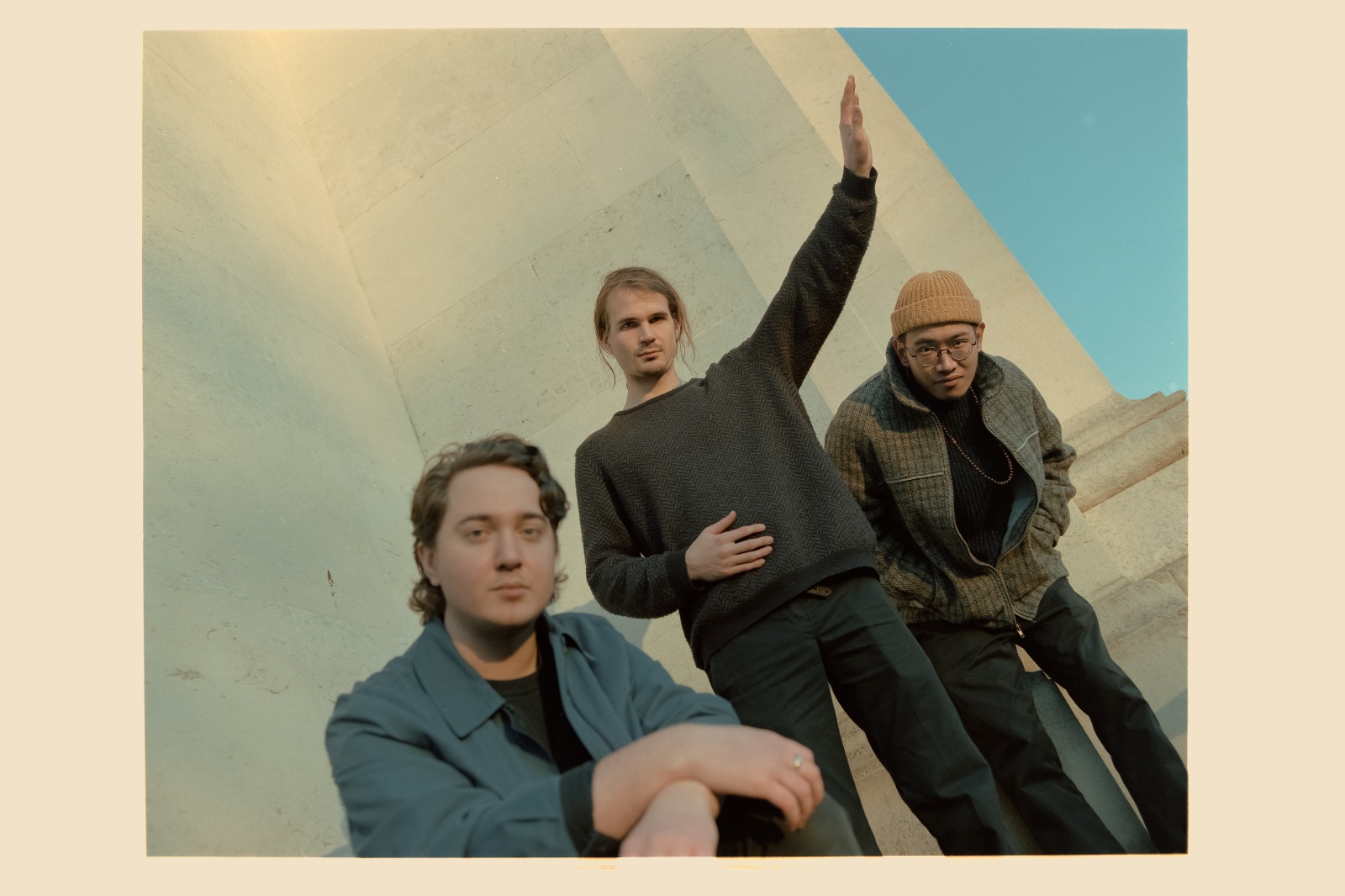 mat maitland

︎Art, Digital, Collage
︎ Mat Maitland
"Over time my collage images have evolved into something less 'cut and paste' and more redfined but essentially still use the same ethos of unplanned accidents."

As I have spent the last 2 weeks sharing some of my visual inspirations I thought I would end my residency with some of my own work as an image maker. This strand of my career began as a hobby really and a creative outlet away from art directing and designing music projects, one of which was the catalyst for following this visual path - Goldfrapp's 'Black Cherry' album. Over time my collage images have evolved into something less 'cut and paste' and more refined but essentially still use the same ethos of unplanned accidents using a desperate source of found library imagery - apart from when a specific element is needed which would be shot. The images and films most often combine my love of surrealism and pop and have allowed me to work with more fashion orientated clients. I hope you enjoyed my posts, Mat.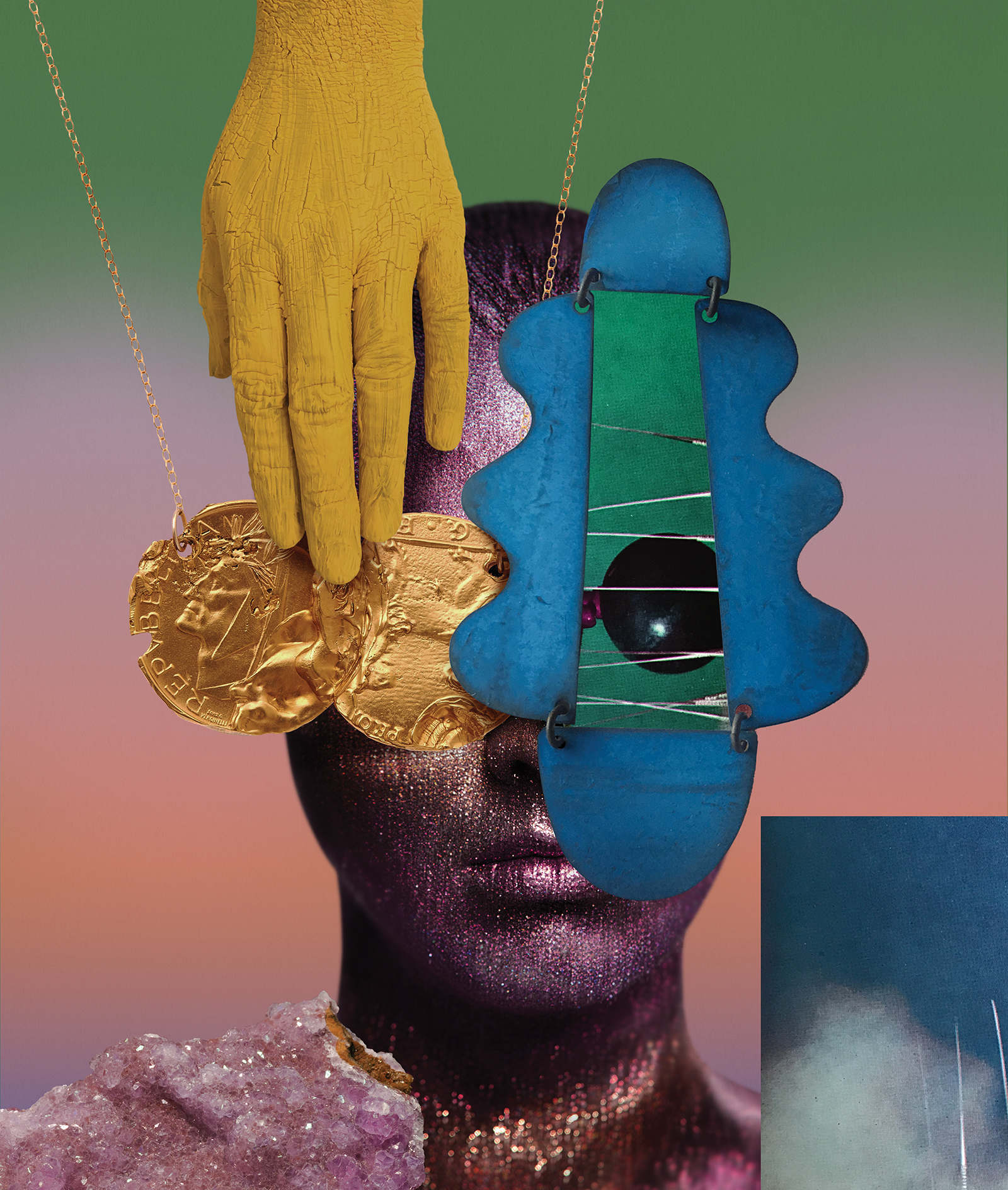 Further Reading ︎

http://matmaitland.com/
john kacere

︎Painting
︎ Mat Maitland
"
The images are sensual, sexual, beautiful and exude a intimate narrative
"
Kacere made a career out painting the mid-section of women dressed in lingerie, creating an iconic body (excuse the pun) of work. His work takes on an almost classical aesthetic, which could be attributed to the luxurious materials and skin on display. The images are sensual, sexual, beautiful and exude a intimate narrative because you are forced to think outside of the frame he is showing us. I have a bit of an addiction to photorealism and always admired the specificity of his subject matter which was so individual against the more well trodden paths of say buildings, cars and fruit.

Kacere was a direct reference for the opening scene of Sofia Coppola's 'Lost In Translation' which shows an almost still life study of Scarlett Johansson's behind in sheer pale pink underwear.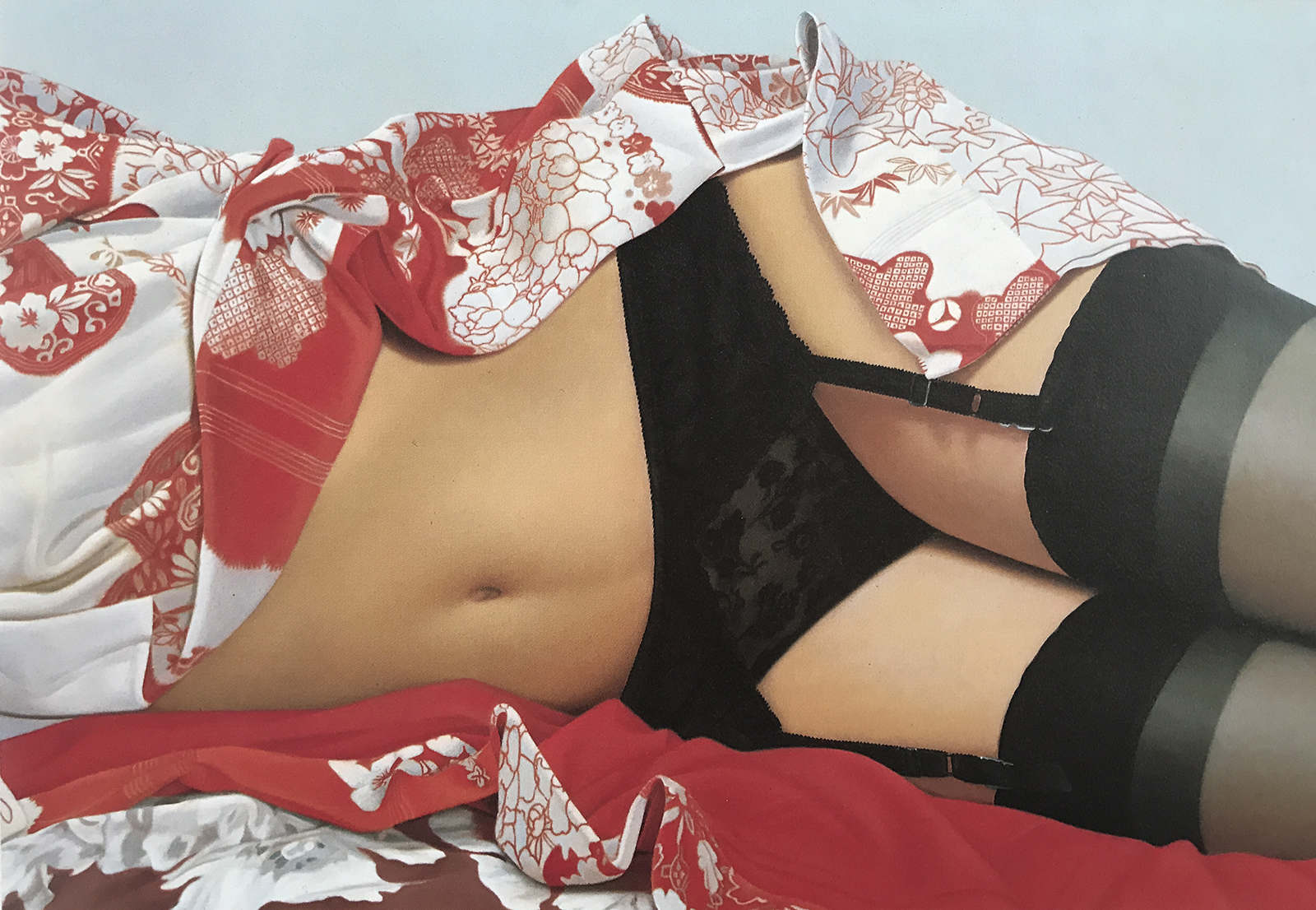 people of kau – leni riefenstahl

︎Photography
︎ Mat Maitland
"
I'm attracted to the idea of projected characters and personas - a way of twisting reality
"
I have always been fascinated by masks and the facade of fantasy, it's something that often (unintentionally) flows through my work and even on my Instagram through some of the visual references I post.
I'm attracted to the idea of projected characters and personas - a way of twisting reality - because even in the smallest way we all use props to express our individuality to present something of ourselves outwardly but in the creative arts it is especially powerful when elevated beyond the every day and into the realm of theatre.



"in the creative arts it is especially powerful when elevated beyond the every day and into the realm of theatre."
It's partly what attracted me to this body of work by German photographer Riefenstahl - aside from the fact that the photographs themselves are truly striking. The images below are from the book People of Kau, published in 1976 and featuring a portfolio of stunning images depicting the tribal face painted designs of the Kau tribe. It has to be said that Riefenstahl was something of a controversial figure which I won't go into here as you can read more online if you choose to.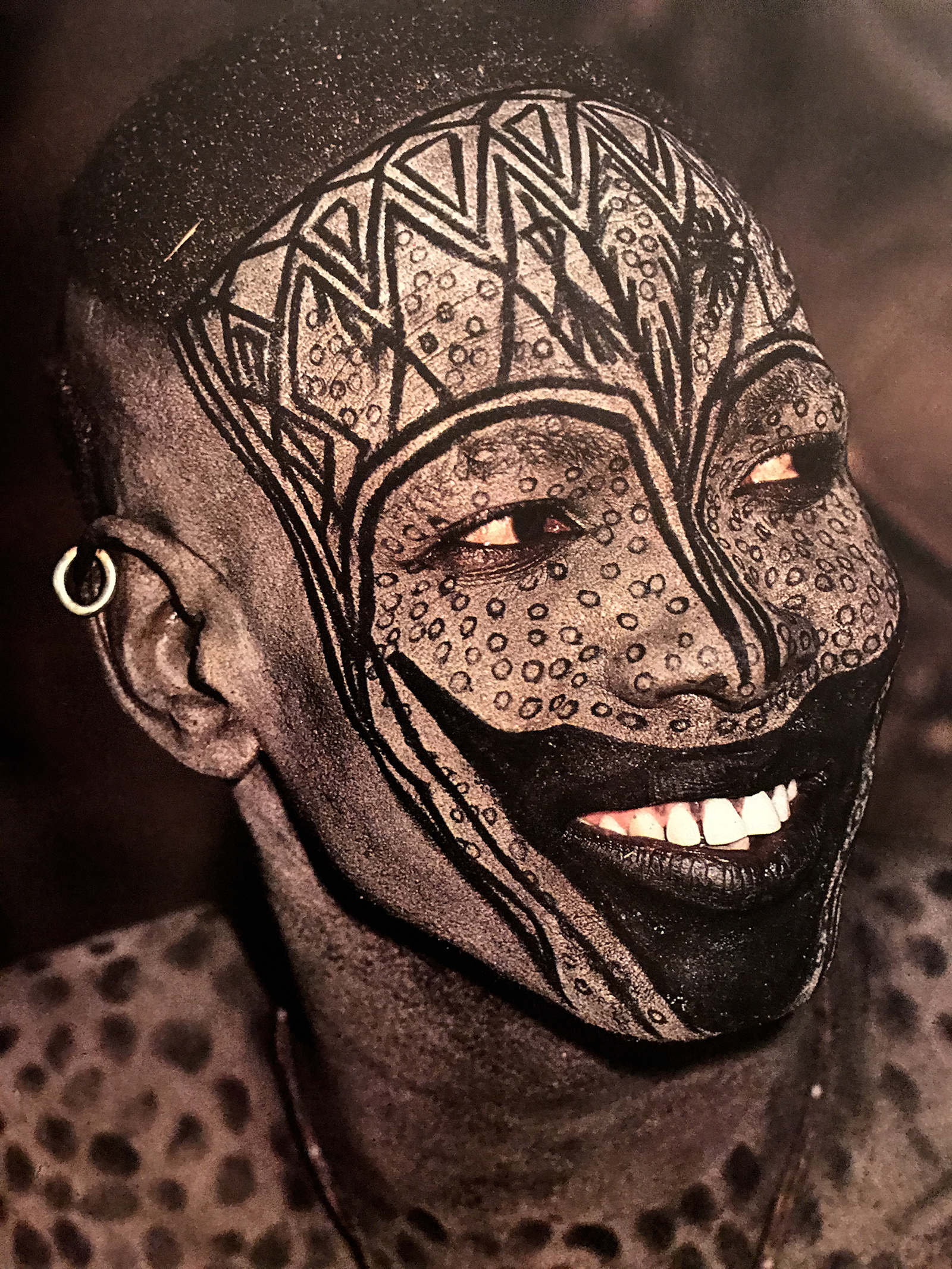 james rosenquist

︎Painting
︎ Mat Maitland
"
The immense scale of the pieces felt like you were viewing them in IMAX format
"
Rosenquist died in March and it brought back into focus my first intoxicating experience seeing his work. It was a show about 15 years ago in a disused warehouse behind the Truman Brewery in East London. The immense scale of the pieces felt like you were viewing them in IMAX format, it was astounding. Being a collage artist myself, albeit a digital one, I was mesmerised by the collage technique he used in many of his paintings, surely not lost on Jeff Koons who surely tipped his hat to Rosenquist when making his Easy Fun series in the mid nighties.

He began his working life as a billboard painter in America and like many Pop artists of the era adapted advertising and recontextualized it into fine art helping to define the Pop Art movement of the 60's. However, my favourite work is from the 80s and 90s.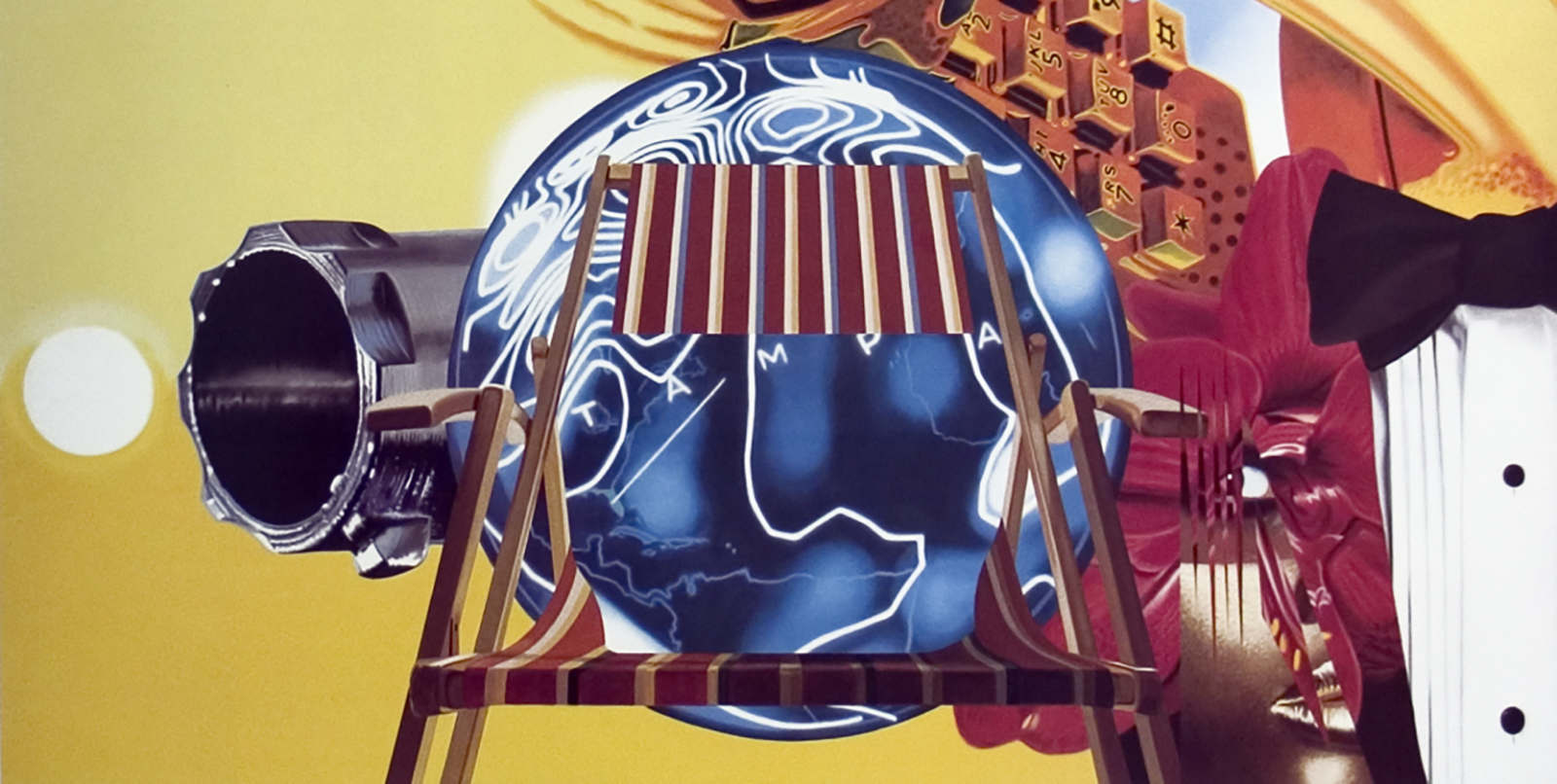 salvador dali - art in jewels


︎Photography, Surreal
︎ Mat Maitland
I love the internet, it's a great place to discover new things but really books are still the best source for uncovering forgotten visual marvels. Such is the case with this one which contains a series of fine jewels based on Salvador Dalí drawing and paintings. The pieces were created by Alemany & Company of New York in close collaboration with the artist. If that wasn't enough, the photography and design of the images are incredible too. One of my top 5 books.